Vanessa Villanueva became quite the celebrity after her marriage to Chris Perez, former band member of Selena y Los Dinos.
However, she's also shunned away as quickly from the spotlight after her divorce from Perez.
Where is Vanessa now in 2023?
Vanessa Villanueva Quick Facts
Birthday: 1971
Birthplace: Corpus Christi, Texas, United States of America
Age: 52 years old
Zodiac Sign: N/A
Height: 5 feet 6 inches
Relationship Status: Married
Husband: Henry Soliz
Ex-Husband: Chris Perez
Children: Cassie Gabrielle (Daughter), Noah Perez (Son)
Vanessa Villanueva & Chris Perez
For most people, Vanessa is quite famous as Chris Perez's former wife.
After meeting in the late 90s, Vanessa and Chris decided to get married in 2001. However, their marriage ended within less than a decade.
The official reason for Vanessa and Chris' divorce remains undisclosed because of privacy reasons. However, according to sources, Vanessa and Perez split because of his drinking issues.
Also, there's a theory among fans.
Despite getting married, fans think that Chris never really got over Selena's tragic death.
The fact that Chris never remarried and went back to keeping Selena's legacy alive further strengthens fans' theory of why Vanessa leaving Chris.
Vanessa Villanueva & Chris Perez Have 2 Children
From their marriage, Chris and Vanessa welcomed two children. One daughter, Cassie Gabrielle Perez, and a son named Noah Perez.
Vanessa's daughter is all grown up, and she's dating a young guy named Mark Munoz.
On the other hand, the couple's son, Noah Perez, born on April 5, 2005, has a medical condition called Down Syndrome.
Vanessa and Chris both knew before Noah was born that he would have Down Syndrome.
Even though the doctors suggested abortion, the couple plainly discarded the idea.
Nevertheless, Vanessa and Chris welcomed their special son.
Noah Perez is 18 years old today.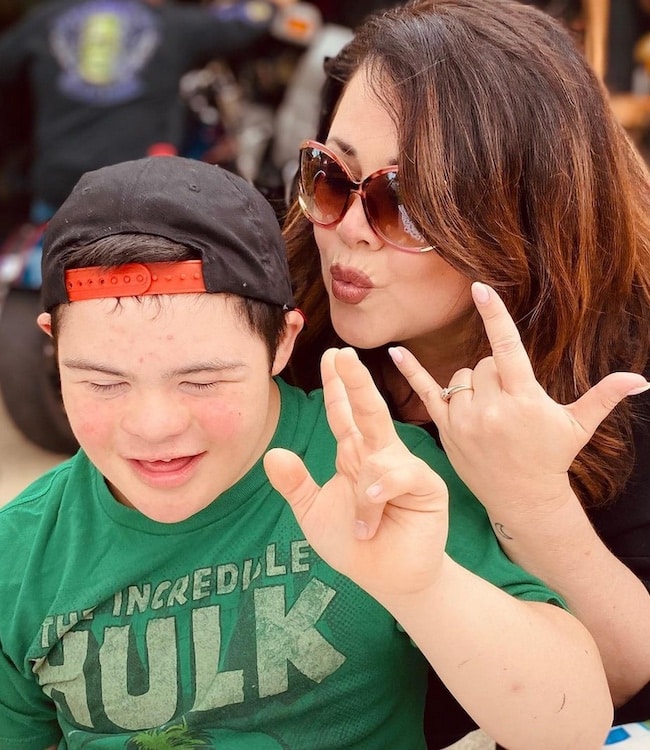 Although Vanessa and Chris Perez welcomed two children and started a family, their relationship did not last forever.
In 2008, Chris and Vanessa decided to get a divorce.
Suggested Read: Rebecca Olson Gupta Age, Dr. Sanjay Gupta, Kids, Net Worth
Vanessa Villanueva Married Again!
Although her ex-husband, Chris Perez, never married after their divorce, Vanessa moved on with her life.
Vanessa met a man named Henry Soliz back in the 2010s.
The couple then officially began dating in February of 2012. Since then, their relationship has only grown stronger.
After dating for six years, Vanessa finally tied the knot.
On February 17, 2018, Vanessa and Henry Soliz married each other in Portland, Texas.
Vanessa also changed her last name to Soliz. She's Vanessa Soliz now.
As of 2023, Vanessa and her husband Henry have been together for more than eight years and married for almost two years.
Suggested Read: Daredevil's Wilson Bethel Wife, Married After Hassie Split?
Henry Soliz Is a Rider
Henry Soliz, Vanessa's husband, is a 50 years old bike enthusiast.
Mr. Soliz is mostly attracted to large Choppers (Motorbikes) and likes the brand, Harley Davidson.
Henry was born in Texas and currently lives with Vanessa in Portland, Texas.
Mr. Soliz graduated from Ingleside High School.
As of August 2023, Henry Soliz works at Corpus Christy Army Depot.
Where Is Vanessa Villanueva In Today
Vanessa Villanueva was born in 1971, in Corpus Christi, Texas, United States of America. Today, she is 52 years old.
Since her divorce from her husband, Chris Perez, Vanessa has almost vanished from the limelight.
It turns out she has her own interests, and for years, has been pursuing them professionally.
Vanessa is a beauty enthusiast who has managed to make a living out of it.
Currently, Vanessa lives in Portland, Texas, and runs a day Spa.
Her Spa is called V's Day Spa. It is located at 605 8th Avenue, Portland, Texas.
Vanessa is an experienced beautician and runs her facility along with her trusted employees.
V's Day Spa offers manicures, pedicures, nail arts, scrubbing, waxing, and other related services.
As a Spa owner, Vanessa is quite happy with her professional life.
Suggested Read: Melissa Satta Age, Married, Kevin-Prince, Son, Divorce
Chris and Selena's Eternal Love
Selena and Chris, who performed together in a band, later eloped in 1992 and married.
Unfortunately, just three years later, Selena was murdered.
A woman named Yolanda Saldivar, a friend of Selena who also managed her fashion line shot and killed her over financial fraud feud.
Selena died on March 31, 1995.
Chris's marriage to Vanessa came six years later. But fans believe that Chris never moved on from Selena's loss.
After Vanessa and Chris divorced in 2008, Chris never married. He tries to keep the legacy of Selena alive.
On the other hand, Vanessa has married again, and she's really happy with her husband, Henry.
Suggested Read: Mike Wolfe Net Worth, Earnings & Multiple Big Houses
Vanessa Villanueva Age
Vanessa Villanueva is 52 years old. She was born in 1971, in Corpus Christi, Texas, United States of America
How Tall Is Vanessa Villanueva?
Vanessa Villanueva is 5 feet 6 inches or 167cm tall in height.
Who Is Vanessa Villanueva's Husband?
Vanessa was married to Chris Perez from 2001 to 2008. After divorce from Chris, Vanessa married Henry Soliz in February 2018.
Vanessa Villanueva Today
Vanessa Villanueva enjoys her career in the beauty industry as of 2023. She has her own business called 'V's Day Spa' located at 605 8th Avenue, Portland, Texas.
[expand title=Sources]
https://www.brides.com/selena-quintanilla-husband-christopher-perez-facts-5092019
https://www.distractify.com/p/chris-perez-new-wife
[/expand]
Why Vanessa Villanueva Really Left Chris Perez & Re-Married