Picture this: The year is 1971. You're a 21-year-old student at Portland State University finishing up a degree in graphic design. One day, an accounting professor approaches you with a potential freelance job opportunity. Outside of teaching accounting, this bearded young professor also runs a small business in his free time called Blue Ribbon Sports. Blue Ribbon Sports bills itself as an "athletic footwear company", but they mainly re-sell imported shoes from Japan. Knowing that you're a graphic design student, the professor explains that his company is about to change its name, and is looking for someone to come up with a new corporate logo.
How much would you charge? $100? $200? $500? $1000?
Let's take the high number, $1,000. Even today, that would probably be an awesome payday for one simple freelance job. Especially for a college student.
So you design the logo and earn your $1,000. You're flush with beer and pizza for at least a few months. Slam dunk.
Fast forward a couple years… How would you feel if that $1,000 design ended up becoming the most famous corporate logo of all time and one of the most recognizable symbols on the planet??? Regret? Pride? Mixture of both?
There is one person on the planet who knows exactly how this scenario feels. Her name is Carolyn Davidson, and in case you haven't picked up on it by now, that accounting professor back at Portland State, was none other than Phil Knight. His company, Blue Ribbon Sports, would soon be known as Nike and Carolyn's design would soon be known as The Swoosh.
Oh, and btw Carolyn didn't charge $1,000. Or $500. Or even $100. When you find out how much she actually was paid, you might puke. Fortunately, this story has a happy ending…
Portland State 1971
Everything we just described above is pretty much exactly what went down at Portland State back in 1971. Phil Knight actually approached Carolyn after he overheard her complain to a friend that she couldn't afford to take an oil painting class. Knight said:
"Excuse me, are you the one who can't afford to take oil painting?"
Knight then went on to explain how his side business, Blue Ribbon Sports, had been looking for a part-time graphic designer to help create charts and graphs for an upcoming meeting with a group of Japanese business executives. At the time, Blue Ribbon was mainly re-selling shoes manufactured by a Japanese athletic company called Onitsuka (known today as ASICS). Knight offered to pay Carolyn $2 an hour to create the charts and graphs. This first freelance job led to a few more…
Eventually, Blue Ribbon's deal with Onitsuka soured and then expired altogether. Fortunately, by this point Phil's co-founder, University of Oregon track and field coach Bill Bowerman, had been designing shoes of their own that the company could sell direct to consumers. Bowerman's most famous early-innovation was using his wife's waffle-iron to create light-weight rubber soles that gripped the track better than any other shoe at the time.
When the Onitsuka deal died, Phil Knight decided Blue Ribbon needed to be re-branded with a shiny new name and shiny new logo. Knight wanted to call the company "Dimension 6", but an early employee suggested they use the name "Nike" instead. Nike is the Greek Goddess of victory. The name stuck.
For the logo, the only instructions Knight gave Davidson was that it should convey motion and could NOT look too much like Adidas' three stripes, Puma's puma or Onitsuka's tiger.
The price both parties agreed upon for the logo job?
$35
Let me repeat that. Carolyn Davidson was paid $35 to design what would eventually become the most famous logo of all time.
Carolyn immediately went to work doodling hundreds of ideas. After toiling away for three weeks, she narrowed down her six favorites and showed them to a small group of Nike execs. The first reactions were not exactly positive, but time was of the essence so Phil settled on a black curvy logo that Carolyn dubbed the "Swoosh". Phil's exact reaction was:
"Well, I don't love it, but maybe it will grow on me."
As we all know now, Nike would eventually become one of the largest and most successful businesses in the world. And along the way, Carolyn's $35 freelance job would become one of the most famous symbols in the world. Nike went public on December 2, 1980 and instantly turned Phil Night and his senior executives into multi-multi-millionaires. Today Phil Knight is worth $40 billion. So is Carolyn Davidson bitter about not getting a better deal??? Fortunately, Nike made it up to her…
Three years after going public, Carolyn was invited back to the company's headquarters to have lunch with Phil Knight and company President Bob Woodell. When Carolyn showed up, she discovered that the lunch was actually a big party in her honor. At the party, Phil presented her with a gold ring in the shape of her Swoosh that was decorated with a small diamond in the logo's curve.
As Davidson started to cry with happiness, Bob Woodell handed her an envelope. The envelope contained 500 shares of Nike stock. At the time, Nike was trading at $17 a share so this represented an $8,500 gift (which the same as around $25,000 today after adjusting for inflation).
And while that may not seem like a lot, Carolyn never sold a single share. Fast forward three decades and Nike's stock has had four 2-1 splits. That means Carolyn's original 500 shares are now 8,000 shares. Today, Nike closed at $126 dollars per share, which means Carolyn's stake today is worth $10 million.
Carolyn graduated from Portland State in 1971 and continued to work at Nike until 1976. She then left the company to become a full time homemaker and freelancer. She recently retired and now volunteers at her local Ronald McDonald House in Portland.
When OregonLive.com caught up with Carolyn recently, they asked her what she thinks of the Nike Swoosh today. She replied:
"I like it. I really do. I never get tired of looking at it."
Speaking Of Logos…
I know what you're thinking. What about the iconic Celebrity Net Worth piggy bank logo??!! Where did that come from?? Well, wonder no more. Back in October 2009, CelebrityNetWorth was just a side project that I fiddled with at night when I came home from my day job. The domain name back then was actually www.celebnetworth.com because www.celebritynetworth.com was taken. When I had the idea for the site (which is a much longer story that I will tell another time) I paid an Elance.com designer in India $200 to come up with something simple that I could play with. This is what he came up with, and what CNW looked like for the first six months it existed: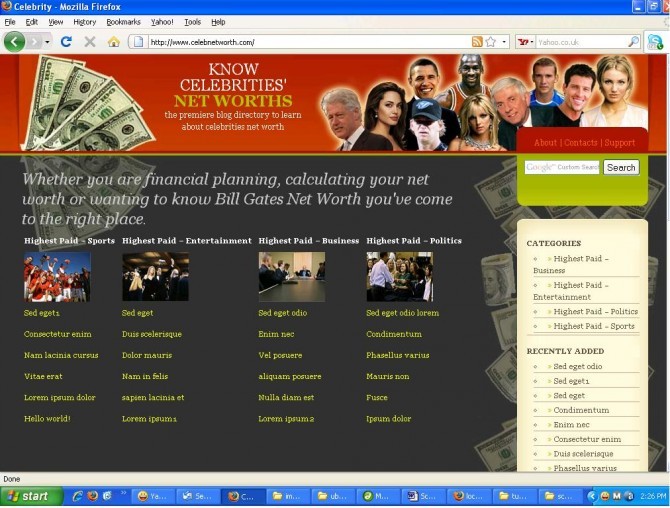 Yes it was hideous, but it was also very functional and allowed me to see if this idea had legs without investing my life savings ($3000 at the time). After a few months, the idea did seem to have some potential, so I decided it was time to pay for a higher quality design. I hired a designer in Texas named Nick who runs a company called Think Four Graphic Design out of Houston (google them if you're in the market for a designer, highly recommended). I found Nick because he was profiled on a wordpress design blog that I visited a few times. I found his company's website and sent a cold email asking for a quote. The price we agreed on was $900. Roughly 1/3 of my net worth at the time.
The only instruction I gave to Nick was that I wanted the background to be white and I wanted a huge search box in the top-center of every page. I didn't say anything about a logo because I had never even thought about it. Two weeks later, Nick came back with this:
Pretty awesome, right? And honestly not that different from what you see today, four years later! Also, note the little piggy bank logo? I remember Nick telling me that he threw that together sort of on a whim and wasn't sure if I would like it at all. But I loved it!
For no reason in particular, this ended up being the only project Nick ever worked on for CNW. I think he was really busy with other stuff and I didn't really need anything else designed for another year or two. It's been about four years since I've heard from Nick, hope he's doing well! The last time we actually talked was the morning after Tosh.0 randomly did a hilarious five minute segment about CelebrityNetWorth. I didn't even know the segment happened until I saw an email the next morning from Nick:
"I saw the segment on Tosh.0 about Celebrity Networth!!! It was crazy. I was watching TV, and then they showed a logo I did! I bet it was 100x cooler for you, ha. Congrats man, thats really, really awesome."
So that's the story of our piggy bank logo. Some day if CNW turns me into a billionaire, maybe I'll find Nick and throwing him a couple mill 🙂
Post script: I sent Nick a link to this article late last night using an email that he hopefully still checked, and he just wrote back! Maybe we'll find something new to work on together now. Appropriately, Nick ended his email with: "Heres to hoping CNW makes you a billionaire 😉"
(It hasn't)

The Nike "Swoosh" Logo Was Designed By A 21-Year-Old Art Student… For A Fee Of $35.