If you're looking for a new soundbar in 2023, then you may feel a bit overwhelmed by all the choices out there. Many of the major audio players in the space have launched new models too, expanding their lineups to suit varying needs and budgets. 
All the usual suspects have unveiled new models, including the likes of Samsung, LG, Sony, JBL and even Roku, which released a new budget wireless option. Notably, Sonos, Bose and Yamaha, of which we also count among the best soundbars, haven't announced any new additions so far this year.       
If you want to find out about the most interesting soundbars that have been released so far this year and what might be coming up next, then read on to get our roundup of all the latest announcements and which ones we're most excited for.      
Soundbars in 2023: what have been the biggest launches so far this year?  
January always tends to be a busy time for tech launches and this year was no different, with Samsung unveiling a whole new lineup of soundbars. It launched a new flagship model called the HW-Q990C with a 11.1.4 channel as part of its premium Q-Series offering. It replaces the HW-Q990B, which delivers fantastic Dolby Atmos sound for a surprisingly compact design – we gave it five stars in our Samsung HW-Q990B review, so it's likely that its successor will be just as impressive. 
Samsung also launched the HW-Q900C, which has a 7.1.2 channel setup, the HW-Q800C, which has 5.1.2 channel sound, and two 3.1.2 channel soundbars – the HW-Q700C and the HW-Q600C – as well as the 3.2 channel HW-Q60C. 
JBL, meanwhile, built upon the four Dolby Atmos soundbars that it launched in 2022, adding one new model to the Bar range in February. The impressive JBL Bar 1300X replaces the JBL Bar 1000 as its flagship model with a 11.1.4 channel. The new model puts itself in competition with Samsung's HW-Q990B and new HW-Q990C. 
And while LG's new Dolby Atmos soundbars were announced in late 2022, the company didn't unveil them until January at CES and didn't become available until quarter of the way through 2023. Perhaps most exciting was its new premium model the SC9, which is the first to receive the IMAX Enhanced certification. It also launched the SE6 alongside it as a more mid-range option – it's half the price of the SC9. 
Sony also chose to delay launching a new soundbar and instead revealed the HT-S2000 in May. The soundbar is the latest addition to its mid-tier range, with a 3.1 channel that supports Dolby Atmos – it's essentially like a Sonos Beam but with DTS:X.
Soundbars in 2023: what launches are we expecting during the rest of the year?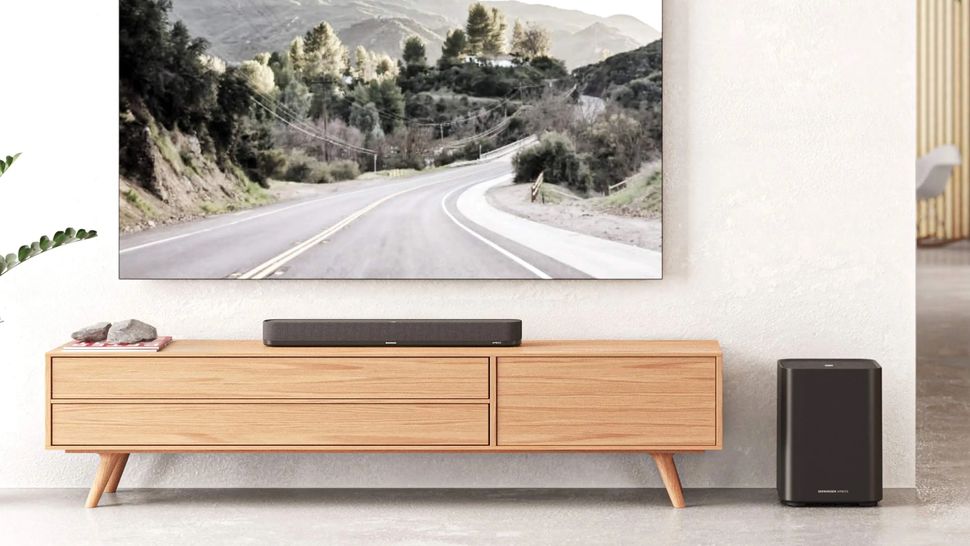 We haven't got word of any upcoming launches, but we're not giving up hope on an Apple soundbar. We still maintain that Apple's HomePod should have been a soundbar, but there's no reason why it couldn't adapt the Apple TV 4K to have built-in speakers. So far, though, there hasn't been any signs to make us think this might still happen. 
The lack of whispers about any upcoming soundbar launches makes sense when you think about all the brands that have released new models already. We didn't even mention that TCL added two new models to its premium Q series (Q6510 and Q6310) and three to its sleek S series (S4210, S4310 and S4510).  
Sennheiser's next Dolby Atmos soundbar – the Sennheiser Ambeo Mini – which leaked in April, also finally came out in May and we're excited to get our hands on one. On the other hand, we did try Roku's cheap wireless soundbar and it sounds good, but you'll need a Roku TV to be able to use it. 
Whether you're looking for the best Dolby Atmos soundbars or the best soundbar for under $200/£200, there's a lot of choice out there and it's constantly changing, which is why we're here to help. We try to test all the coolest latest gadgets to make sure you're buying the best option out there for you. 
the best launches so far and what's coming next