A clique of Ghanaian policemen in the Upper East Region has proven beyond odds as they tactically disarmed a machete-wielding suspect – netizens have praised their brave conduct.
In a viral video making rounds online as available to occupygh.com, a machete-wielding suspect in the Upper East Region refused to surrender his weapon.
The police officers approached the man, who had been reported to them for threatening to harm his wife, to arrest him and send him to the police station. They demanded that the man puts his machete down, but he refused, insisting that he would only put it down if they told him why he was going to be arrested.
The police officers, speaking in Twi continued to order him to put the cutlass down. An interpreter spoke to the suspect in Gurune but he stood his ground, maintaining, in Gurune, that he had to be told why they had come to his house to apprehend him.
The interpreter said it had to do with his wife. He would still not put his cutlass down. The armed police officers restraining themselves from shooting, had one of them move close to him while appealing to him to lay his machete down. As he got distracted, the officer hit his hand and the cutlass fell off.
He was then promptly overpowered. One officer stepped on his neck and head while another handcuffed him.
The officers in the viral video have received plaudits for acting professionally in effecting the arrest. Many have praised them for not shooting him, but rather effectively disarming him and then arresting him.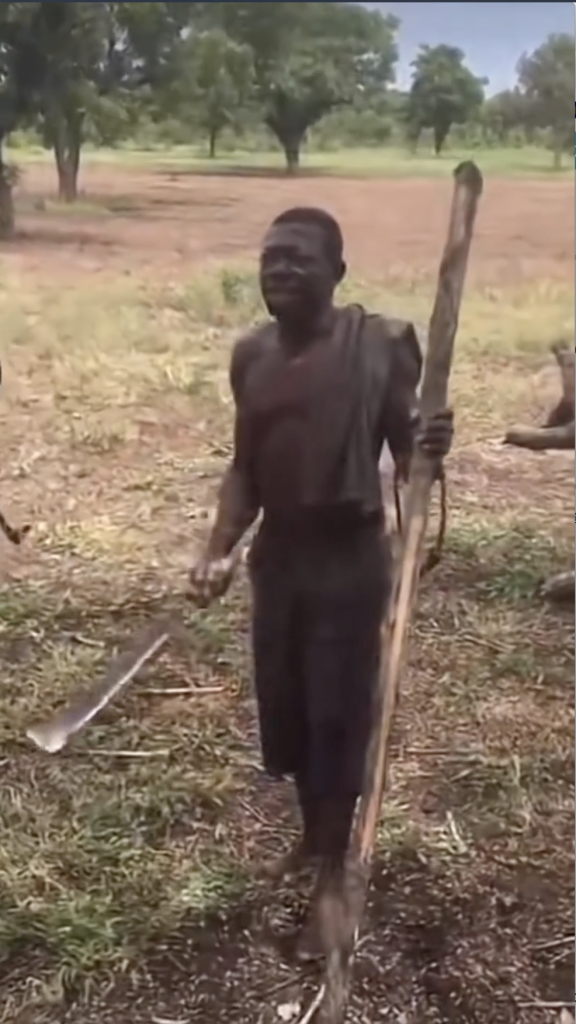 Check out the video below or visit OccupyGh.com for more videos & Kindly Subscribe to our Youtube Channel to see more viral, educative & exclusive videos. 
What's your thought on this piece, we welcome your views in the comment section below:
Subscribe To Watch New Videos On Youtube
Source: OccupyGh.com 
Tap To Join Our WhatsApp Community
Related
Scares As Ghana Policemen Tactically Disarms A Machete-Wielding Suspect (VIDEO)