On December 29, 2023, at around 11am PST, we published an article titled "Unraveling The Mystery Of Andrew Tate's Purported $300-400 Million Fortune". In an extremely strange and coincidental twist, one hour after hitting publish, both Andrew and his brother Tristan Tate were arrested by authorities in Romania on charges of human trafficking and rape. The brothers spent some time in jail then were released on house arrest. Today they were both officially indicted.
The reason we published that article back in December is because – for years – we could not go a day without receiving an email or social media DM from an Andrew Tate fan telling us that our net worth estimate for him was way, way, way too low. If you went back about a year ago, we estimated Andrew Tate's net worth at $10 million. After receiving a handful of tips that did indeed paint a more generous picture of the Tate empire, we upped our net worth estimate to $50 million. Even that was not enough. His supporters continued bombarding us with messages saying he was worth $300 million or maybe even $500 million. Andrew himself suggested he was the "world's first trillionaire."
We wrote the previously-mentioned article to explore the Tate empire, which is primarily made up of a webcam business, casino investments and an online subscription club called Hustler's University. How much of the empire is real? Does Hustler's University REALLY generate $5 million per month? Did the Tate brothers really make $100 million from their webcam business? Do the brothers actually own several casinos in Romania? Since so much of the empire is built on hype and bravado, it's very difficult to walk away with a conclusive conclusion.
On the other hand…
As we mentioned, today the Tate brothers were both officially indicted on charges of rape, human trafficking and forming a criminal organization. As part of the indictment, Romania's anti-terrorism organization – the Directorate for Investigating Organized Crime and Terrorism (DIICOT) – released a lengthy statement. In that statement, DIICOT revealed its intentions to seize all of the Tate brothers' assets. Assets which DIICOT estimates to have a total combined value of…
$12 million
That's a far cry from $300 million or even $50 million. Interestingly, it's pretty much exactly what we estimated a year ago!
In its accounting of Andrew Tate's assets, DIICOT listed the following:
15 luxury cars worth around $8 million
14 luxury watches
$2 million worth of real estate
52,000 Euros
$17,000 USD
Shares in four commercial companies
21 Bitcoin worth around $588,000 at present prices
What About His $300 Million Bitcoin?
Several articles writing about the indictment today claimed that DIICOT was seeking to seize $300 million worth of Bitcoin from Andrew Tate. For example, here's People Magazine:

This threw me for a loop. Then after a bit of pondering, I figured out exactly what happened. Here's the paragraph from the DIICOT statement outlining the Tate empire's assets:
If you paste that paragraph into Google translate, the text mistakenly converts "21.080508 BTC" into "21,080,508 BTC". And in the very next sentence it mistakenly converts "approximately $384,904.789 USD" into "approximately $384,904,789 USD." See for yourself: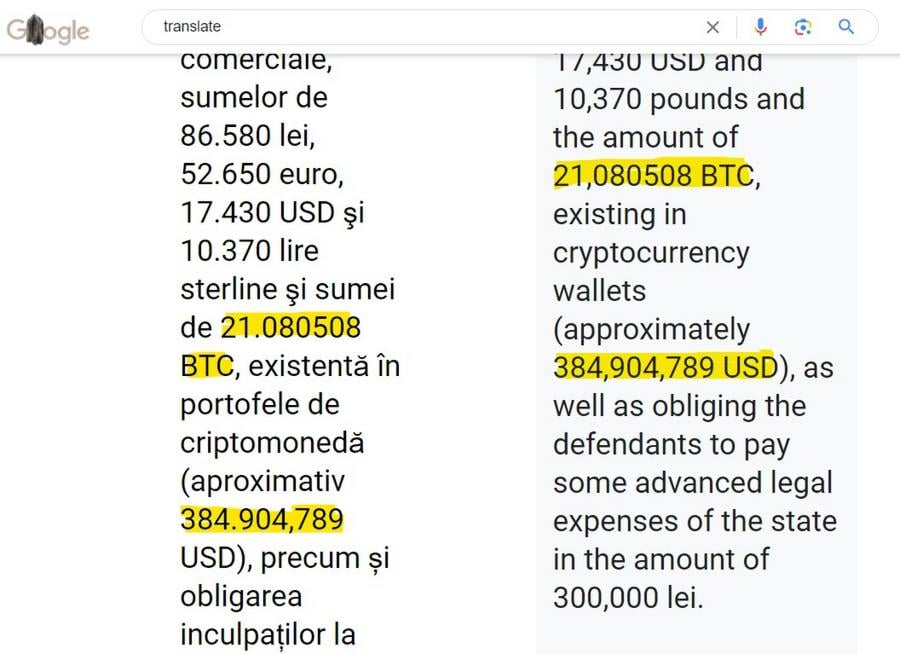 The reason the statement values 21 BTC at $384,000 instead of the current value of $588,000 is almost certainly because DIICOT is valuing the stash at December 2022 prices, when the brothers were arrested.
When asked to respond to this drastically lower estimate of his net worth, Andrew Tate purportedly told UK outlet The Sun:
"I'm sure this case has absolutely nothing to do with stealing my wealth."
Under Romanian law, the Tate brothers face up to 10 years in prison for the human traffic charges alone. They have vehemently denied all charges.

Romanian Authorities Reveal The True Value Of Andrew Tate's Empire And Fortune… And It's A Far Cry From $300-400 Million