A young Nigerian woman has broken down in tears as she publicly calls out her ex-boyfriend for avoiding her after asking for a GH¢14,000 loan from her.
The lady, Princess Adeola revealed that her ex-boyfriend Oluwatosin Bejide owes her a huge sum of money total of GH¢14,000 (N930k) and yet he has refused to hear her out.
The heated exposé sheds light on a financial dispute that arose during their relationship in 2022.
Princess Adeola alleges that she lent Oluwatosin Bejide N600,000 in multiple installments during the course of their relationship after he approached her with claims of financial difficulty. According to Adeola, the first transfer was prompted by Bejide's request for assistance due to financial struggles.
Following that, Bejide allegedly sought help again, claiming he was arrested by the police in Abuja. Adeola claims to have transferred an additional N100,000 to support his situation.
Undeterred by the initial assistance, Bejide allegedly reached out to Adeola again, this time requesting N200,000, stating that he was still dealing with police-related issues.
Adeola obliged and transferred the amount in question. The financial entanglement continued as Bejide allegedly approached Adeola for a fourth time, this time seeking N100,000 to address another urgent matter.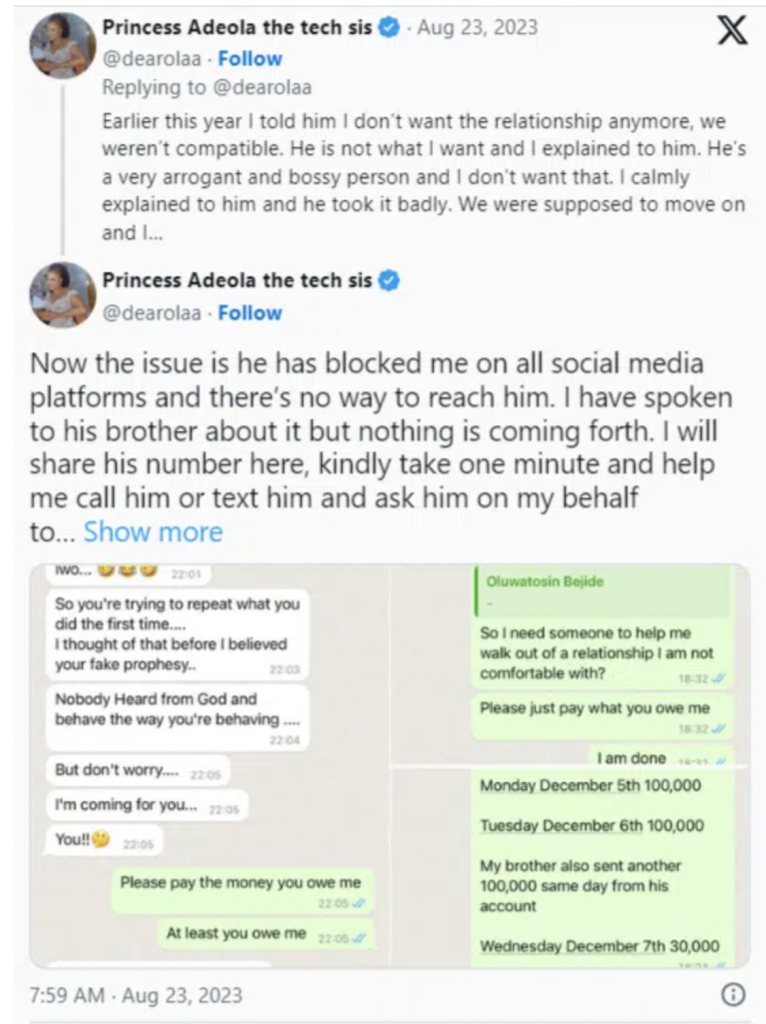 She called on social media users to reach out to Bejide and urge him to fulfill his financial obligation.
"Now the issue is he has blocked me on all social media platforms and there's no way to reach him. I have spoken to his brother about it but nothing is coming forth. I will share his number here. Kindly take one minute and help me call him or text him and ask him on my behalf to refund my money," she wrote.
Source: OccupyGh.com 
Tap To Join Our WhatsApp Community
Related
My Ex Blocked Me Everywhere After I Loan Him GH¢14,000