A Kentucky lawyer and prosecutor has been indicted for allegedly murdering his wife and tampering with evidence after the fact more than two years after she died of blunt force trauma at home.
According to the Aug. 30 indictment, 54-year-old Donald Kyle Deskins, a former assistant Pike County attorney and current City Attorney in Elkhorn City, killed 46-year-old Judith Dawn Deskins in April of 2021 "with the intent to cause her death or under circumstances manifesting extreme indifference to human life wantonly engaged in conduct which created a grave risk of death," and, in both the immediate aftermath and ensuing months of the murder, tampered with evidence at the scene and with evidence on his laptop.
Judith Dawn Deskins died on April 24, 2021, which is one of the dates the defendant is alleged in the indictment to have tampered with evidence. The second alleged evidence tampering offense goes back to July 28, 2021, when the defendant is accused of tampering with evidence on a laptop before handing it over to cops.
July 28, 2021, was also one day after Donald Kyle Deskins updated his status on Facebook to say he was in a relationship with another woman, leading many to congratulate him and say how happy they were that the father of two and "great man" had apparently found happiness just three months after his wife's sudden death. His Facebook page currently lists him as single, however.
More Law&Crime coverage: Live-in boyfriend identified as zip tie murder suspect more than a month later
The Kentucky lawyer previously faced professional discipline for multiple errors and omissions in his representation a woman heading for divorce, a 2014 Kentucky Supreme Court opinion and order shows:
Donald Kyle Deskins, KBA Member No. 88880, is found guilty of violating SCR 3.130-1.3, SCR 3.130-1.4(a)(3), SCR 3.130-1.16(d), SCR 3.130- 8.4(c), and SCR 3.130-8.1(b) of the Kentucky Rules of Professional Conduct;

Deskins is suspended from the practice of law in Kentucky for a period of thirty (30) days beginning ten (10) days after entry of this Order, to be probated for one (1) year.
Notably, the opinion said Deskins attempted to mitigate his misconduct by citing mental health issues and "family problems":
In his Motion for Suspension, Deskins admits his actions were in violation of SCR 3.130-1.3, SCR 3.130-1.4(a)(3), SCR 3.130-1.16(d), SCR 3.130-8.4(c), and SCR 3.130-8.1(b). In mitigation for his professional misconduct, Deskins states he was suffering from anxiety and depression-related illnesses corresponding with certain personal and family problems during the events giving rise to this case. In April 2012, Deskins voluntarily entered, into a two-year Supervision Agreement with the Kentucky Lawyers' Assistance Program (KYLAP) and is currently in compliance with the terms of that agreement. The KBA made no objection to Deskins's Motion for Suspension with conditions and requested this Court grant Deskins's motion.
Six months after his wife's death, defendant Deskins shared a post about depression and anxiety, writing: "If you know….. you know. If you don't …. be thankful."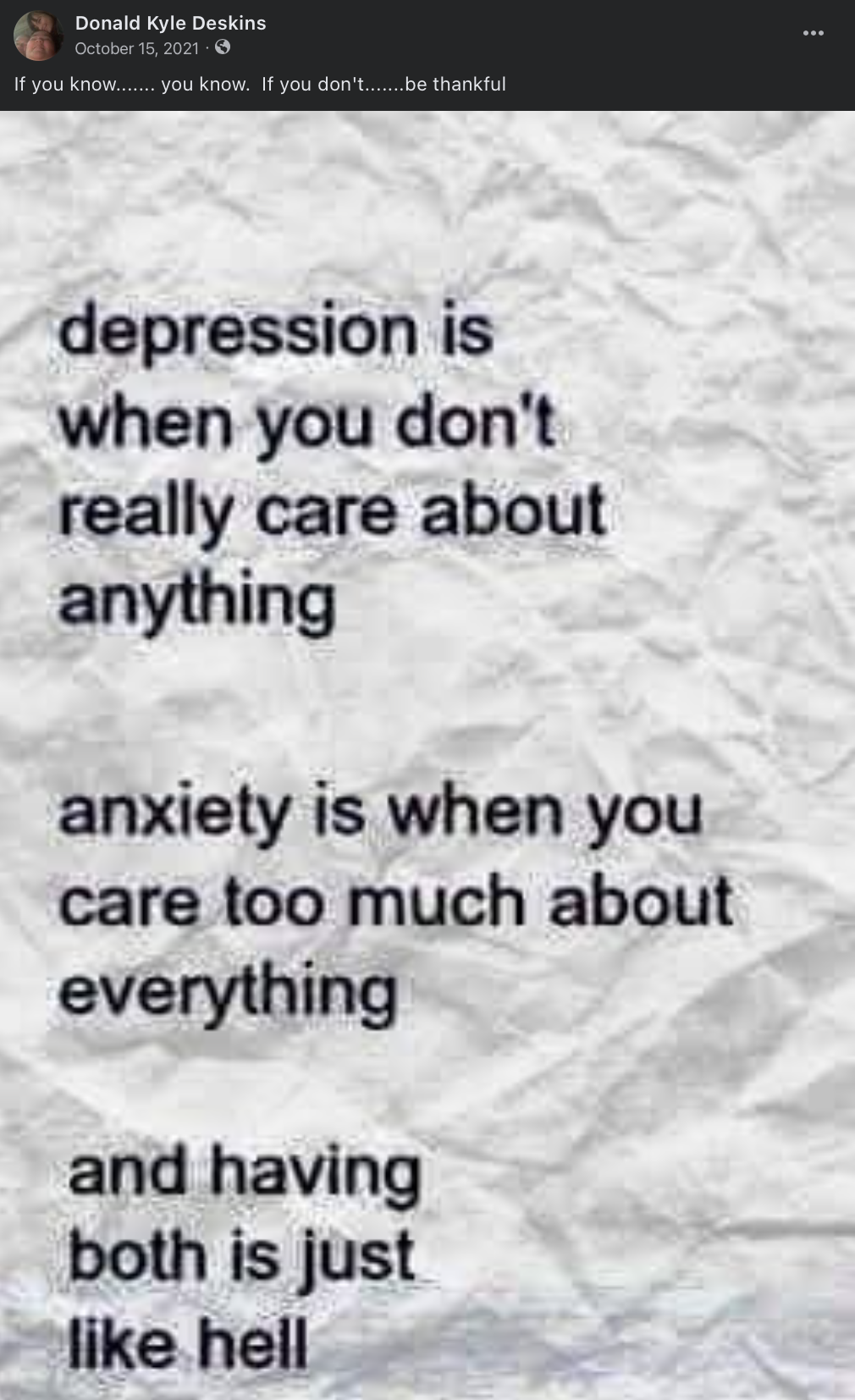 Though he was indicted in Pike County, Deskins will not be prosecuted by the Pike County Commonwealth's Attorney's Office, given the obvious conflict raised by his former employment there as an assistant prosecutor.
As a result, Johnson County Commonwealth's Attorney Floyd "Tony" Skeans has been named the special prosecutor, the News-Express reported.
Without getting into specifics about the evidence, Skeans suggested that this was a difficult case to put together.
"Finding the person with the skills and expertise to be able to interpret the physical evidence took forever," Skeans reportedly said. "I got involved in late 2021 and it took me nearly all of 2022 to find somebody that could look at it."
Pike County Detention Center records reviewed by Law&Crime show that the prosecutor-turned-defendant is charged with committing murder in the course of domestic violence and tampering with physical evidence.
Deskins remains jailed without bond. The Kimper resident, listed at 6'3″ and 330 pounds, was booked at 1:19 p.m. on Aug. 31.
Have a tip we should know? [email protected]

Kentucky lawyer Donald Kyle Deskins accused of wife's murder