Former YouTube vlogger and "momfluencer" Ruby Franke could face more legal trouble after telling a judge that one of her own children may be a sexual predator.
Utah Judge Suchada Bazzelle oversaw a shelter hearing involving the placement of Franke's four minor children on Friday. During the short proceeding, Franke claimed that one of her children had abused other kids. She accused the child of having sexually abused a younger sibling for years and encouraged that child to help abuse other children. She also claimed two of her children played a "patting" game with each other, but didn't explain to the court what she meant by that. Despite her statements that her child recently confessed to abusing 20 people, she provided no evidence for the allegations.
At the end of the hearing, the judge decided to place the child in a home with no other children.
Who is Ruby Franke?
Ruby Franke, 41, started the YouTube channel "8 Passengers" in 2015 with her husband, Kevin Franke. In her videos, she featured the everyday lives of her six children, while giving advice about parenting, homeschooling, and marriage. At its height, the channel amassed more than 2.2 million subscribers.
Uploads to the channel stopped in 2022 and YouTube terminated the account earlier this year. While YouTube did not provide a specific reason for the removal, multiple fellow YouTubers have made videos over the past year, calling out Franke for her strict parenting style and punishment tactics.
After she stopped uploading to "8 Passengers," Franke began appearing in videos for ConneXions Classroom, a therapy company created by her business partner Jodi Hildebrandt.
The Alleged Crime
According to the Santa Clara-Irvine Public Safety Department, police got a call just before 11 a.m. on Wednesday, Aug. 30 about a 12-year-old boy who showed up to a man's home asking for food and water. The man told dispatchers that the child "appeared to be emaciated and malnourished, with open wounds and duct tape around the extremities," police wrote in the release. Investigators discovered the boy had left neighbor Jodi Hildebrandt's home through a window. When police searched the home, they found the boy's younger sister with similar wounds. Both were treated at a hospital. Franke's other minor-aged children were taken into the care of child protective services.
In a post to her Instagram story, Franke's oldest daughter, Shari, now 20, wrote that she was thankful her mother was arrested and that she had been "trying to tell the police and CPS for years about this."
During a second hearing on Friday, Franke was officially charged with six felony counts of child abuse. Hildebrandt faces the same charges. The two are in the Washington County Jail until a bail hearing is held later this month.
The Latest in the Case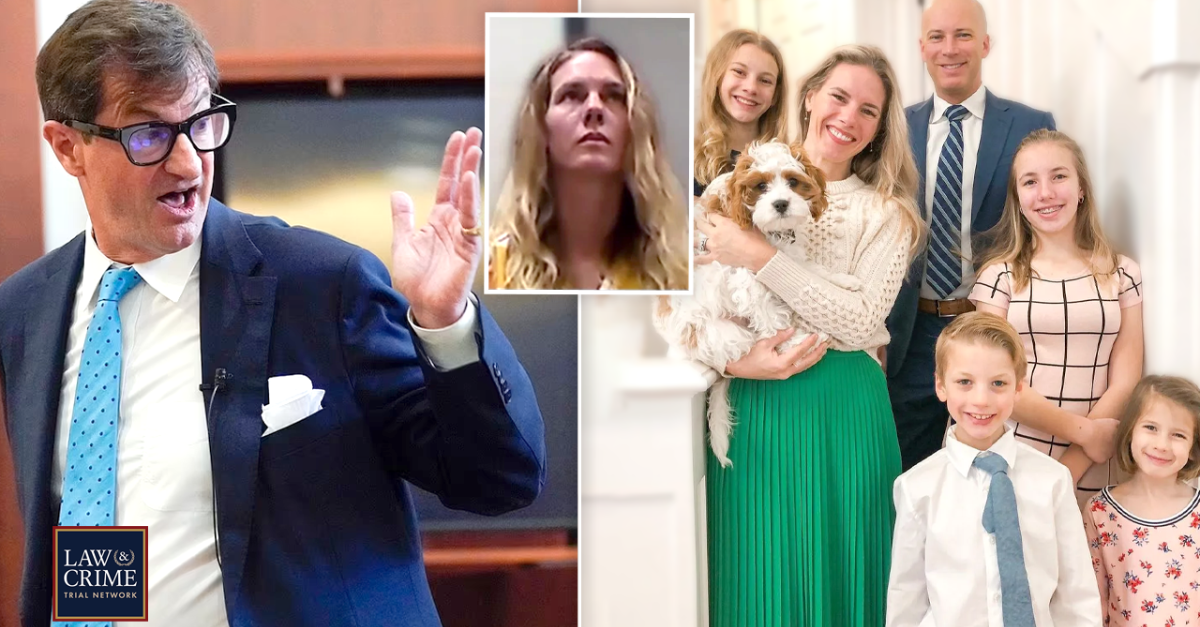 Ben Chew, the attorney who represented Johnny Depp during his infamous courtroom face-off with his ex-girlfriend Amber Heard, told Law&Crime's Sidebar podcast that bringing up her child's alleged abuse of other children doesn't help Franke's case in any way. In fact, it could hurt her.
"For her to make this kind of claim, I think it's tremendously detrimental to her case," Chew told Sidebar's Jesse Weber. "If any of this were true, she should have reported it at the time rather than waiting to be arrested and arraigned."
"Now, I don't know whether she identified the child, but it wouldn't be hard to figure out since there's a finite universe of six. I think it's terrible for her defense. I think it also shows it doesn't shine a very good light on her character, that she would say these things in public, even if true."
When asked whether a minor child could have a legal claim against a parent in a situation like this, Chew said he believed they would.
"I think the cause of action would be stayed until that child hits adulthood," Chew explained. "I think there's a legal presumption that allows him to go to adulthood before the clock, the statute of limitations clock, begins to run. But yes, I absolutely do think the child has a cause of action against the mother for defamation and for physical battery and all kinds of other civil versions of the criminal charges that have been filed."
Chew also speculated about what type of recovery would be possible for any victims in a civil action.
"I know she's a YouTube celebrity, but I think the cost of her criminal defense is going to be such that I don't know what kind of assets she's going to have to satisfy judgment. And remember, I said alleged, because I'm very curious to see what can be proven."
Weber mentioned to Chew that despite multiple accusations and comments against Franke over the years, she has never filed a defamation lawsuit against anyone.
"You can imagine, if you were accused of such a monstrous thing, or if I were, that would be my first inclination," Chew told Weber. "She would probably have to prove actual malice, which is knowledge or extreme recklessness as to the truth. But I think you would take that on if you had been accused of this. So, I think it is very telling. And in the case of Johnny Depp, I mean, he certainly took it on, despite all the inherent risks of a defamation case, because he needed to clear his name."
When it came to Franke's decision not to speak to police after her arrest, Chew wasn't surprised.
"I think it's both smart legally, but it's also suspect, especially as a mother or a parent. I think your first concern would be the well-being of the child and once you were satisfied that your 12-year-old was in safe hands, your concern would be to clear your name and find out exactly what happened. So yes, I do find it suspicious."
Chew also believes the Department of Children and Family Services could be held liable.
"DCFS will enjoy some measure of sovereign immunity. But it should not be impossible to sue them. I've had cases where we've sued a government entity, state government entities, and you have to navigate around immunity issues. But they absolutely can be sued. And it sounds like they have a lot to answer for in this case."
Franke and Hildebrandt are expected back in court on Sept. 21 for bail hearings.
Have a tip we should know? [email protected]

Ben Chew speaks about Ruby Franke's child abuse case